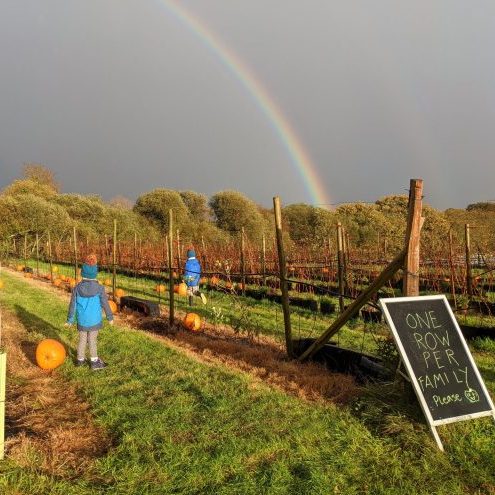 Picking pumpkins during the wettest rain of the week – that was the last minute plan. I pulled on my big girl boots, rounded up the hibernating troops and a plethora of waterproof gear and headed over the river in search of seasonal rituals.
But the clouds burst in such quick succession, we were treated to a sunny double rainbow over the fields. Our usual trick of timing our pumpkin 'harvesting' to the favoured day between there being full fields of glowing orbs grazed by dozens of organised families and the PYOs shutting early as they've only got rotten goo left, treated us again to a simple short list of contenders and decisive children.
Early Christmas planning (and shopping), all out Halloween/Samhain pyro-plans (on top of ALL the autumn crafting/stories/baking), seem to be bringing comfort. Not just in the blanket of familiarity or marking the changing of the seasons, but in an energy of intention in celebrating the passing of time. Time we've survived, time we've grown, time we've thrived, time we still grieve. But onwards it moves. So many days are the same. So little can be dreamed into reality at the moment. But time and circumstances will continue to move forwards, and we're all excited to feel that.